Hospitality wood flooring
More than any other design element, the floor contributes to the feel and perception of a space. It sets the aesthetic scene for all other design features and sends a signal to customers and guests about quality and comfort. In addition, the choice of floor impacts the overall practicality, guest experience and brand identity. A successful, cohesive hotel and hospitality design scheme strikes a balance between form and function, and with a solid hardwood floor from Junckers, you will have the best of both.
Exceptional hotel design starts with the floor
A Junckers wooden floor provides designers with creative freedom both in terms of functional performance and visual design. Our collection of solid hardwoods, specialist surface textures, floorboard dimensions and finishes, offers a quality material to realise any design idea, from a dark and dramatic black oak floor to a large expanse of wide board plank flooring or a classic herringbone floor.
Long-lasting grandeur
A solid hardwood floor is a durable surface suitable even for the heavy foot traffic of a busy hotel or restaurant. Pre-finished with a factory applied seal of oil or matt lacquer, a Junckers wood floor is one of the most hard-wearing flooring surfaces you can choose, it is not uncommon to find a Junckers floor installed 75 years ago, still in perfect condition.
Timber is a warm, elegant, but essentially neutral, backdrop to any interior style and, it can be updated and re-finished many times over to accommodate an interior re-fit. A solid wood floor can remain in situ during a renovation and, even if it has been neglected or damaged, a simple sand and re-seal will restore it to pristine condition.
Wood flooring for hotels – so much choice
A wooden floor comes in many shapes and sizes and there are no design set rules. A classic plank floor can give an architectural look with its long, linear floorboards; one of our two-strip floors adds a lively and expressive backdrop; a traditional herringbone floor will lend an air of elegance to any room and a contemporary parquet floor like our Hexparket with hexagonally shaped staves will provide a confident design statement. What all our floors have in common is that they are 100% natural, solid wood, through and through.
A new kid on the block
Specially developed for the hotel and hospitality market, our new Twin Herringbone parquet is faster and more economical way to install herringbone flooring. Made from our popular two-stave flooring, Twin Herringbone is pre-finished, which means it is ready to use and walk on as soon as it is fitted. There is no need for on-site sanding and sealing, which reduces time, effort, cost and downtime. Twin Herringbone is available in over 20 different versions.
Get creative with colour
With many different timber species, surface and finishing treatments on offer, you can create any number of different styles with wood floors. The classic look with a smooth, polished surface versus tactile, brushed floors where the top layer of soft wood has been removed to expose the structural ridges in the grain of the timber; White-washed, dark, grey or warm brown – a wide range of shades with a level of transparency to allow the natural patterns in the timber to show through are available on all Junckers floors.
Not just for floors
Our floors are made from beautiful hardwood timber, species available include Ash, Oak, Beech and Maple. Because of the natural beauty wood brings to a space, cladding walls, and even ceilings, in wood is growing in popularity. The structural grain pattern and tonal variation of hardwood flooring can add warmth and depth to a room. We often see our wood flooring used as a design feature, a headboard for a bedroom or a way to introduce a different texture to an interior. Read about using Junckers wooden floors for walls and ceilings.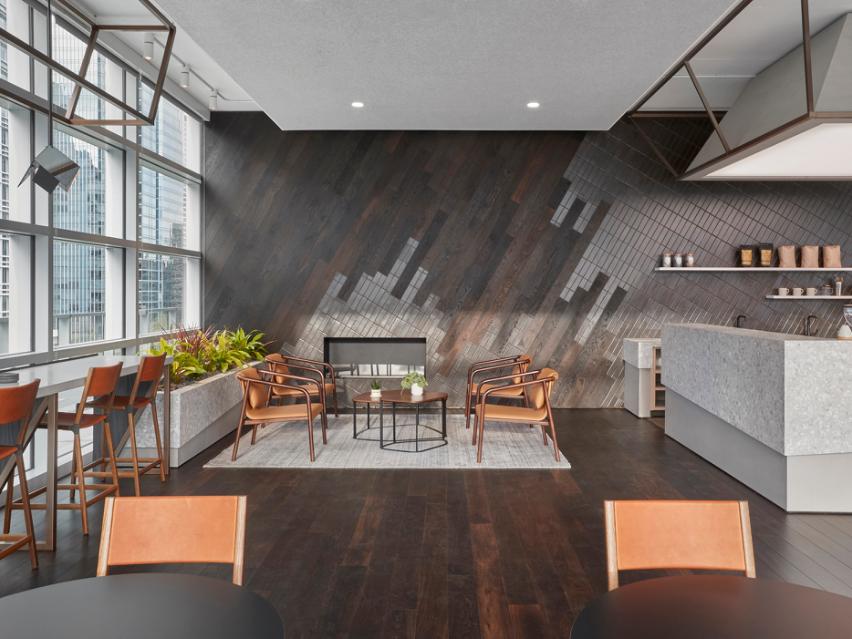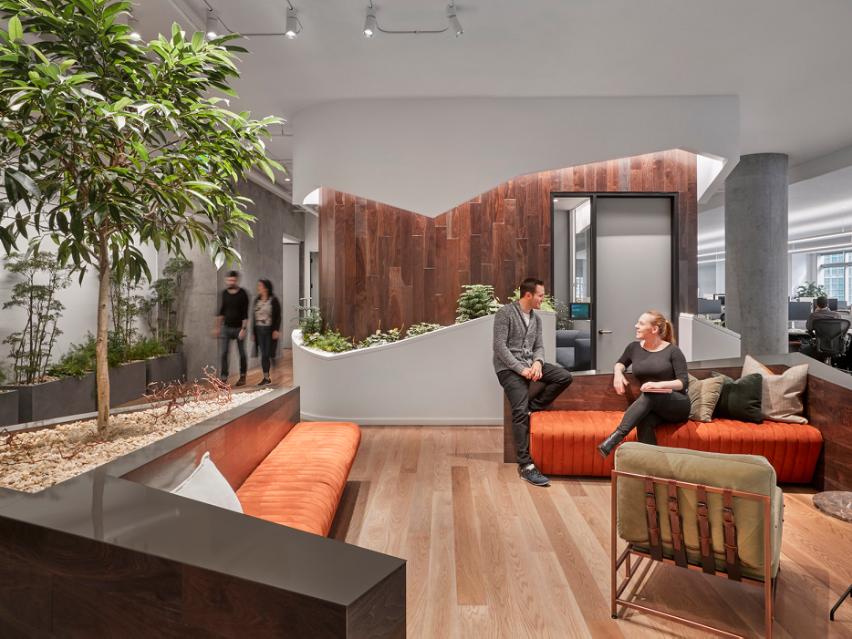 The invisible luxury of warm feet
Wood is a good insulating material in itself and does not feel cold to walk on. Our wooden floors are ideal for use over underfloor heating, proven in test after test by major underfloor heating manufacturers. Unlike tiles and stone, a solid hardwood floor is naturally warm whether or not the heating is on. The result is not only a treat under bare feet, but also a comfortable, even room temperature.
Wood flooring for hotels, is it 'quiet' enough?
Well-planned sound management is central to achieving a functional and harmonious hotel, where guests feel relaxed and at ease in every space. Walking across a solid wood floor produces a pleasantly subdued sound, and noise travelling between floors is naturally reduced by the innate molecular makeup of hardwood. Beyond that, Junckers wood floors provide excellent opportunities for controlling the sound environment efficiently from the bottom up by fitting in sound insulation at the point of installation. Our specially developed acoustic system is height adjustable to suite multiple subfloor types and provides an impact sound reduction of 27dB to comply with Building Control. Our Technical Team can help develop the best solution for your project.
JUNCKERS TECHNICAL SERVICE
phone: +45 70 80 30 00
mail: junckers@junckers.com
A sound investment
Solid wooden floors exude luxury and class and add tangible value to a building. The initial investment in a Junckers hardwood floor is about equal to good hotel carpeting, but whereas the expected useful lifetime of hotel carpeting in high traffic areas is only about five years, a Junckers wooden floor will last for generations with the right care and maintenance.
Wall-to-wall service
Avoiding mistakes will save you time, money and downtime. Our experienced design consultants and project managers are available through all phases of your project to help make your project a success - from idea and design to planning, paperwork, finished installation and aftercare.
Cultivate your green profile
Promoting a green profile is increasingly important for all businesses, not least the design community. By choosing a Junckers floor, you are making a sustainable choice, from a company which has a long-standing record of caring for the environment. As wood is considered a CO2-neutral material and because Junckers generates more energy than the business itself can consume from utilising all biproducts of the timber used to make our flooring, the energy surplus is supplied to the national grid, making Junckers a CO2-neutral company.
We believe in sustainability and support initiatives to improve environmental awareness. Complying with environmental legislation and regulations is paramount to us and in areas where we see further possibilities of improvement, we strive to do more. We co-operate with internationally recognised certification schemes, such as FSC®, PEFC™ and we have recently completed Environmental Product Declarations for all our floors.
... and some good news for the cleaner
It may not seem like an obvious point of consideration when it comes to specifying flooring for a hotel, but knowing that the daily cleaning of a wooden floor is faster, gentler and far less costly compared to, say, carpet which requires expensive cleaning equipment or harsh chemicals to remove stains and odours. Good news for the maintenance team, and the low running costs of is bound to be good news on the bottom line!